George P. Hartwick, III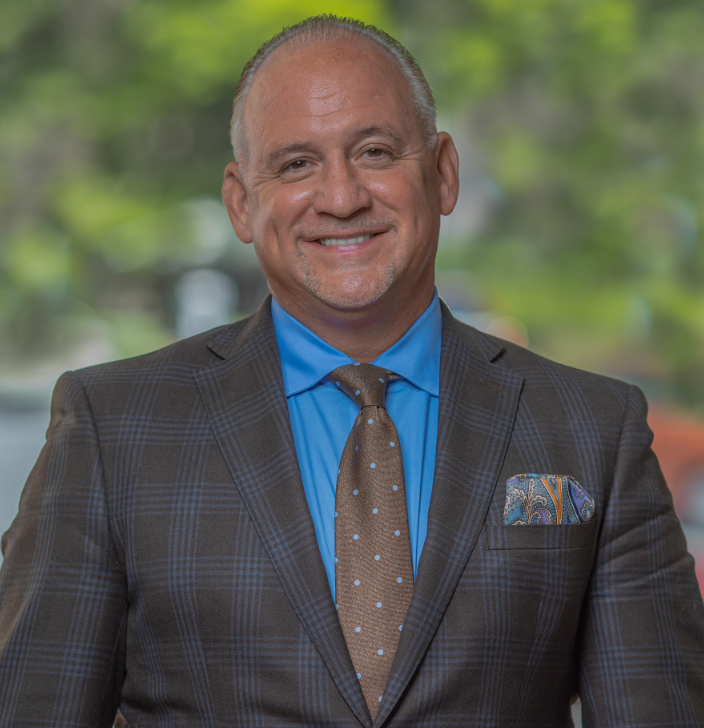 A history of working hard for his community
From his earliest days as a scholar-athlete in the blue-collar town of Steelton, George P. Hartwick, III has worked hard for everything he has and does.
His never-say-die spirit has led to numerous awards, a rapid climb to national recognition in the field of human services, and dramatic gains in Dauphin County's economy, cultural diversity, human service delivery, and quality of life.
From new housing projects and a deliberate focus on cultural inclusion to cutting-edge strategies to cope with mental illness in prison, the opioid epidemic, keeping families together and more, George has pushed hard for ideas and innovations that transform lives –and he has succeeded.
More notably, he and his fellow commissioners have achieved success while still holding the line on taxes for a remarkable 15 years in a row.
Lessons from his youth
Passion and perseverance are not only in his DNA but a byproduct of his experiences.
Growing up in the gritty town of post-industrial Steelton, George was afflicted with a degenerative hip disease called Perthes, which left him in leg braces for five years. George learned at a very young age to overcome obstacles, embrace differences, and respect people from all walks of life.
When faced with challenges, he redoubled his efforts to excel and went on to compile the most wins in the history of Steelton-Highspire High School in the sport of wrestling. He also played football and baseball. Born without a silver spoon in his mouth, he worked his way through Pennsylvania State University and was the first in his family to graduate from college.
A devotion to his community
George's desire to help others drew him to public service at a young age and at 24, he was elected as Steelton's mayor, becoming the youngest mayor ever elected in Pennsylvania. During his two terms, he began the successful process of turning Steelton around and priming the borough for continued economic growth it sees today.
Now serving his fourth term on the Dauphin County Board of Commissioners, George has primary oversight of the county's Human Services Department, Human Resources, Children and Youth, Juvenile Probation, Area Agency on Aging and other initiatives.
Always looking for ways to help the lives of the county's residents, George has expanded Meals on Wheels to all eligible seniors, tackled elder abuse, helped implement a "warm hand-off" that immediately arranges addiction treatment for those taken to emergency rooms following overdoses, coordinated care for those displaced by the closing of Harrisburg State Hospital, and so much more.
Working to improve the system for everyone
Recognizing the success and innovation in his leadership, he was selected to serve as the Chairman of the County Commissioners Association of PA's (CCAP) Human Services Committee.
He was also elected as Pennsylvania's representative to the National Association of Counties' (NACo) Board of Directors as well as to serve on NACo's executive board, representing Pennsylvania. He has testified frequently on human services funding, flooding, addiction, child abuse, prison reform, and other county issues before the Pennsylvania House and Senate.
George was recently appointed by the state Supreme Court to serve as treasurer on the Lawyers Fund for Client Security, where he helps compensate victims of unscrupulous attorneys and restore confidence in the legal profession.
George also serves on the Administrative Office of Pennsylvania Courts' Investment Advisory Board, which coordinates the investment policy for four, non-tax supported, Pennsylvania court-related boards.
The many marks of recognition he has earned include the "MLK, Jr. Dream Showcase – Dream Keeper Award" and the Pennsylvania Department of Community and Economic Development Governor's Award for Local Government in 2017. He also won the CCAP President's Award in 2016 and 2014, the Latino Hispanic American Community Center Award, the 2015 Greater Harrisburg NAACP Presidential Citation, and the 2014 Governor's Award for Local Government Excellence.
Illustrating his trademark "Hard work is the Hartwick way" mantra, the time and energy he expended on behalf of the Dauphin County Democratic Committee earned him the Chairman's Award in 2014 and 2015-16.
His natural leadership skills and proactive, results-oriented approach led to his selection by his fellow county commissioners across the state for the prestigious COMCARE "Commissioner of the Year Award" in 2011. He was also honored by the Harrisburg Regional Chamber and CREDC with the 2006 "Government Leader of the Year" Award, along with his two fellow commissioners. Together, they also received the "Helping Hand" Award from Big Brothers/Big Sisters of the Capital Region and multiple "Waste Watcher" Awards from the state Department of Environmental Protection for improved recycling and waste reduction. The commissioners were also named "Champions of Diversity" by the Institute for Cultural Partnerships.
A selection of his other awards includes the Pennsylvania Citizens for Better Libraries (PCBL) Local Public Official Award, S.W.A.N. Collaboration Award, the Harambee Recognition Award of the Nguzo Saba Ujoma-Unity, and Electorate for President Obama Electoral College.
Despite these honors, George finds his greatest legacy to be his children. He is the proud father of Alexis, Lauren, Jordan, George IV, and Kamdyn. He believes changing the world for the better begins with being a good parent.
Guiding George's efforts to serve his community is his deeply held conviction that those who have walked through adversity have the power and responsibility to help those who are still struggling.
Oversights