News
Dauphin County Commissioners Approve Real Estate Tax Credit for Volunteer Emergency Responders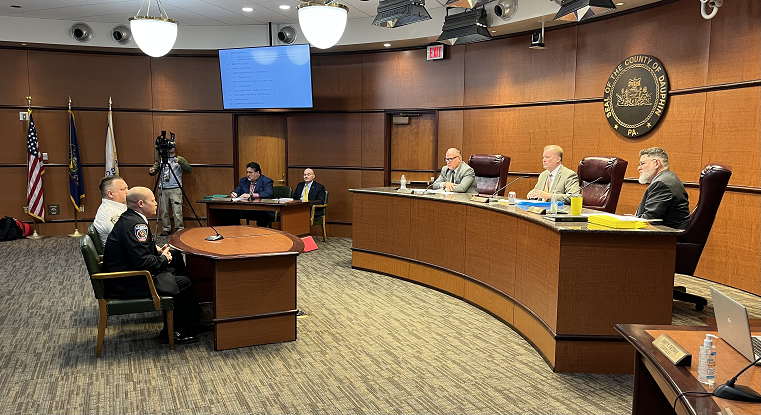 The Dauphin County Commissioners have approved an ordinance to offer a $250 county real estate tax relief check for volunteer emergency responders that own property in the county.
The relief is available to all active volunteer firefighters and EMS personnel at the county's estimated 40 volunteer fire departments.
Commissioners Mike Pries, Chad Saylor, and George P. Hartwick, III unanimously passed the ordinance at Jan. 18's public meeting.
"The hundreds of volunteers in Dauphin County are committed to protecting us every day, and we need to do what we can to keep that volunteer force as robust as possible," Chairman Pries said.
Chiefs Marvin Reist and Tim Neiter, of Susquehanna Rescue Fire Company 37 and Halifax Fire Department, respectively, applauded the commissioners for showing recognition of the efforts and sacrifices made by volunteers.
"Little steps like this make a huge difference," Chief Reist said, noting the sharp decrease in volunteerism across the nation.
Chief Neiter said his small department contributed 9,840 volunteer hours last year.
"Any initiative that can help support them is greatly appreciated," Neiter said.
Dauphin County staff are in the process of compiling a list of active volunteers.
"It's no secret that there are volunteer shortages across the Commonwealth and country for these essential positions," Commissioner Saylor said. "It is a real crisis: While the number of calls is increasing, we are seeing volunteer numbers go down."
The checks are expected to go out in February. The county will send checks to the volunteer agencies which will distribute them to the individual volunteers.
"We have a willingness to be creative and progressive and figure out what else we can do to support our volunteers," Commissioner Hartwick said.
MEDIA CONTACT: Brett Hambright, Press Secretary, 717-780-6311; bhambright@dauphincounty.gov