News
Commissioners Issue Checks from Charity Golf Outing to Non-Profit Organizations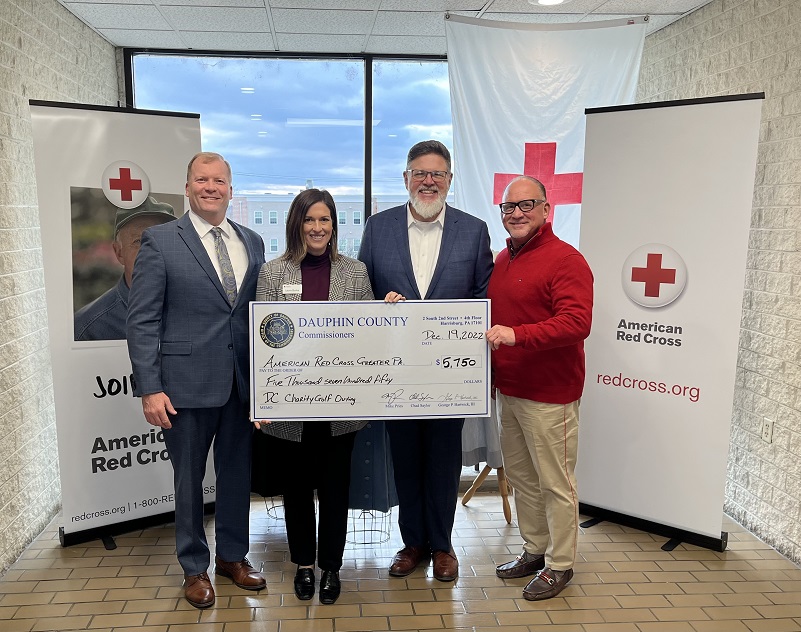 The Dauphin County Commissioners have issued checks to more than a dozen area nonprofit organizations with proceeds from the commissioners' annual Charity Golf Outing in October.
In all, $50,000 will be distributed to the organizations.
On Monday, Commissioners Mike Pries, Chad Saylor, and George P. Hartwick, III stopped by American Red Cross Greater Pennsylvania Region and Girl Scouts in the Heart of Pennsylvania and delivered checks.
"These checks show how big Dauphin County's heart is," Commissioner Chair Pries said. "Huge thanks to the golfers and their agencies that gave so generously."
The other organizations were mailed checks, and the commissioners plan to make more visits to the recipients' headquarters.
"We always wish the amounts could be more, but every dollar is going to great use," Commissioner Saylor said.
October's outing was the 26th with nearly $900,000 being raised since the outing's inception.
"There is so much need in the county and we make sure to stretch the dollars to impact as many lives as possible," Commissioner Hartwick said.
MEDIA CONTACT: Brett Hambright, Press Secretary, 717-780-6311; bhambright@dauphincounty.gov